Nail Services
Lyna's Beauty Salon is one of only two nail salons in Menlo Park that is certified by San Mateo County to be a Healthy Nail Salon. This certification means we use less toxic products, safer practices, and better ventilation.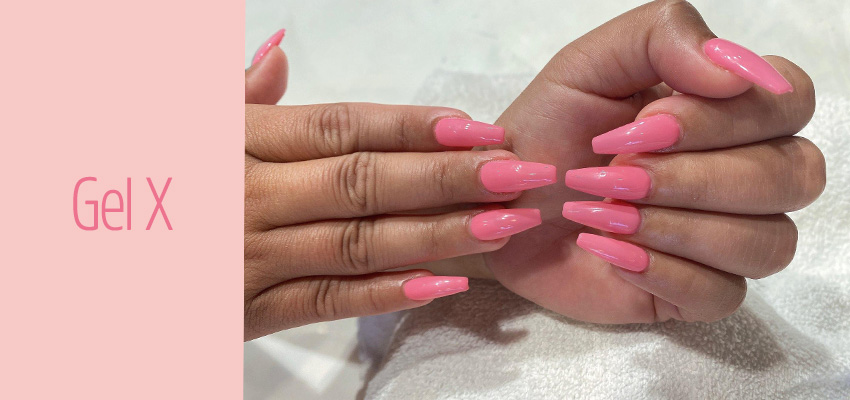 Gel X
Gel X is a healthy alternative option to traditional acrylic or hard gel. Gel X extensions cover entire nail bed from cuticle from free edge with various sizes of full-coverage. You can choose from short, medium, long, siletto, coffin, round, or square.

Price does not include design or removal of your old gel polish, acrylic, dipping powder.


Full set with gel polish: $75
Fill with gel polish: $60
Manicure
Classic Manicure $30
Gel Take Off and Redo with Classic Manicure $45
Take Off Gel and Redo with Gel $48
A glamorous treatment for a busy day, we will soak, shape, and file your nails with cuticle treatments and a 5-minute massage with warm towel.
Gel Color with Classic Manicure $45
This is Classic Manicure Service with your choice of a gel color and a 5-minute massage with warm towel.
Deluxe Manicure $35
Unwind with everything in the Classic Manicure followed by cooling gel scrub to remove dry skin with warm towels, and completed with a 5-minute massage with refreshing lotion.
Luxury Manicure $42
This luxurious manicure will make you feel great! Everything you need from the Deluxe Manicure topped off with our moisturizing paraffin wax and a 7-minute massage.
Premium Manicure $50
Get first class treatment with our Premium Manicure! Combine all the glam from the Luxury Manicure you will also have your scent of choice sugar scrub and skin revitalizing mask followed by a 10-minute hot stone massage with warm skin therapy lotion.

Select Cool Mint, Lavender-Orchid, or Citrus Lotion
Dip Powder Manicure $50 | Dipping Powder with Removal $55
Dip powder manicure is a safe and healthy alternative to traditional acrylics or gel polish manicure. Dip powders leave nail bed healthy and undamaged because they don't contain methacrylate. Methacrylate is known for weakening or soften nail beds. Dip powders are durable than gel polish and just as durable as acrylics.
French Gel Manicure $50
French Gel Manicure with Take Off $55
Pedicure
Classic Pedicure $45
This speedy relaxing pedicure includes nail trimming and shaping, cuticle treatments, and a 5-minute massage.
Delux Pedicure $48
Enjoy this Deluxe Pedicure with skin exfoliating sugar scrub and warm towels followed by a 7-minute hot stone massage after nail trimming and shaping, and cuticle treatment.
Luxury Pedicure $50 (Luxury Manicure & Pedicure $88)
Sit back and relax with our Luxury Pedicure. It includes everything you need from the Deluxe Pedicure. Top it off with hydrating paraffin wax to increase blood flow to your feet, and extra relaxation with a 10-minute hot stone massage.
Premium Pedicure $70 (Premium Manicure & Pedicure $115)
Try our newly upgraded Premium Pedicure for feet hydration and conditioning. Relieve your stress with thermal hot stone treatment and aromatic hydrating mask. It includes trimming and shaping the nails, skin exfoliation with natural sugar scrub and paraffin wax, and a 15-minute massage.
French Gel Pedicure $60
French Gel Pedicure with Take Off $65
Little Princess Services (11 Year Old and Under)
Princess Manicure: $20
Princess Pedicure: $30
Princess Manicure and Pedicure: $45
Princess Polish Change:
Hands: $13
Feet: $17
Upgrade
Color Change with Regular Polish:
Hand: $15
Feet: $20
French Tip(Hand): $22
French Tip(Feet): $25
Color Change Gel Polish
Hand: $35
Feet: $40
French Tip(Hand): $40
French Tip(Feet): $48
Take Off
Take Off Dipping Only: $15
Take Off Gel Only: $15
Take Off Acrylic Only: $25
Gel Take Off with Service: $5 extra
Acrylic Take Off with Service: $15
Cut & Shape: $20
Nail Design: $8 & Up
Buffer Shiny: $7
Paraffin Treatment $12
Callus Removal: $15
Fake Nail $10